Monday, October 22, 2012
Aberford.Net website
Due to changes in the publishing mechanism of the Blogspot tool, this website is no longer active. If you would like to administer this site then please contact the webmaster
Aberford Horticultural Society information
Contact information for the Aberford Horticultural Society will be published here soon.
Saturday, September 26, 2009
Photos from Aberford Summer Show 2009
0 comments
Saturday, January 24, 2009
Aberford's New Shop!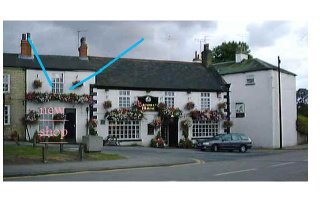 Hello well words Spreading that There will be a Convenience Store postitioned next to the Arabian horse pub and I think its gonna Be Up and running in Febuary Time, Late Febuary We will be able to go and Get a newspaper rather than having to go to barry for those Newspaper lovers or any other Need.
6 comments
Sunday, August 31, 2008
Any Aberford news?
If you have any news about Aberford then please
email me
with them and I'll post it up for you.
0 comments
Tuesday, June 05, 2007
Song, Music & Wine with Diane Wales
Song, Music, and Wine
A traditional selection of well-known Operatic
Arias & well-loved music sung by
Soprano Singer Diane Wales
at St Ricarius Church, Aberford
on Saturday 9 June 2007 at 7:30pm.

Tickets available at £8.00 each
(including cheese and wine)
Please call Sara Fawcett on 0113 281 3208

All proceeds for the urgent repair of the church roof


4 comments
Wednesday, March 28, 2007
More news about rock festival at Lotherton.
Wild man of rock to DJ in Leeds
Heading for Leeds: Pete Doherty.
CELEBRITY junkie Pete Doherty, the hell-raising partner of Kate Moss, is to DJ at an all night dance festival in Leeds.


The notorious rock star, front man of Babyshambles, will ditch his guitar for the decks when he headlines the Gatecrasher Dance Festival, at Lotherton Hall, Aberford, Leeds, over Spring Bank Holiday weekend, at the end of May.
Festival bosses today confirmed that Doherty, 28, will take to the stage for an exclusive DJ set featuring top pop acts including Preston from the Ordinary Boys, Paul Thomson from Franz Ferdinand, the Futureheads and Belle and Sebastian at the Gatecrasher Summer Soundsystem 2007.
There will be 13 hours of non stop music from the afternoon of Sunday May 27, continuing until 6am the following day. There will be six different stages with 100 DJs and performers.
The all-night dance festival is set to attract 15,000 clubbers is to be held at the Leeds City Council owned beauty spot, in north Leeds. It is not clear whether supermodel Kate Moss will attend the event, but she is known to often accompany Doherty when he performs.
Local residents have already expressed concern at the news. David Howson, chairman of Aberford Parish Council said: "The traffic and congestion will be bad and the noise goes on all night long. It could even be worse, depending on which way the wind blows.
"These all-night events mean that youngsters end up roaming the village and they are a pain.
"There is nothing we can do now as permission has been given. In recent years revellers smashed the fence down and some of the deer escaped from the grounds."
Simon Raine of Gatecrasher said: "Pete Doherty will headline the Teenage Kicks stage alongside Britain's hottest art-rockers who will become dance floor DJs for one night only."
There will be DJs from around the world including well-known British names such as trance DJ Judge Jules, Fabio and Grooverider, Dave Pearce and talent from Leeds' own Federation nights. There will also be a Radio 1 stage.
Mr Raine of Gatecrasher added: "There has always been a unique crossover between the world's of dance and indie music and we want to celebrate this at Summer Sound System in a way that is unique and fits with the whole dance festival culture. There is some quite anarchic about members of coolest UK bands becoming DJs, you never know what musical style or sound may come up with."
Gatecrasher bosses said: "The area is quite remote and away from houses so there is generally no disturbance."
Tickets are on sale now and available from the Gatecrasher web-site www.gatecrasher.com/summer or by calling 08704 28 27 26 or from any HMV store.
Source:
This Is Leeds
0 comments
---